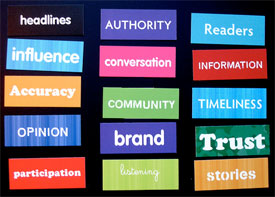 Back by popular request. Well not actually. I just wanted a place to remind me all the little web design tricks I've picked up along the way. In addition to a reminder to myself, I'm a strong advocate of blogging to all my clients – especially corporate clients. Why? Because blogging does two things for you. First, it sets you up as the authority in your field. As prospective clients review your site they'll see you know all the intricacies about your product or service. Secondly, its GREAT for SEO as your content becomes more diversified.
While "blogging" seems to be a personal term. I instruct my clients to use something as "Current News" or "Industry News"… something to that effect as I have done. So being my best client, I've decided to start blogging again.
My first attempt was www.meaninglis.com which if you visit is dreadfully out of date. Really the purpose of that site was to keep my friends and family updated with what was going on. However the evil empire (Not Microsoft but equally as evil) known as Facebook all but killed my personal blog, at least for now.